Our History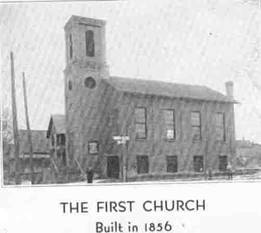 Brief History of St. John's United Church of Christ

Michigan City was a small but growing community on the southern shores of Lake Michigan. The German Pioneers who settled here had come to make a new home in the land of opportunity, America. These pioneers yearned for a place to worship and to educate their children in the language of their homeland.
In response to this need, the Evangelical Church in Germany and Missionary Society of Basel, Switzerland, had sent missionary pastors to this country in the early 1800's. They endured many hardships, traveling in the Mid-west, as they brought the Word of God to the German immigrants, and no doubt, their efforts led to the organization, on May 14, 1856, to the German United Evangelical Lutheran St. John's Congregation here in Michigan City.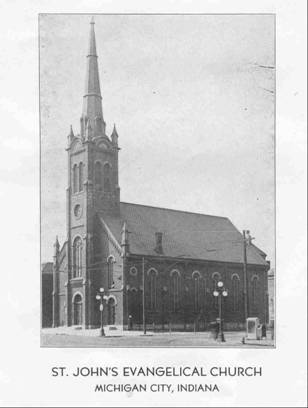 The first pastor to be called was Rev. C. W. Haass in 1856, the same year that the first church building was erected at the Southeast corner of Ninth and Spring Streets at a cost of $2500.
Five years later, in order to provide benevolent and insurance benefits for the members of the church, St. John's Aid Society was organized in October, 1861.
In 1867, the rapidly growing congregation found it necessary to build a larger house of worship, located at Ninth and Franklin Streets. Having a balcony on three sides of the sanctuary and seating for 600 persons, with a tall steeple, it was an imposing structure and built at a cost of $28,000. This building was a landmark in the community, and it's tall steeple was topped by a gold leafed cross which was a dominant feature of the city. It served the congregation for 101 years.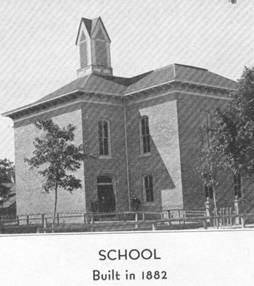 Fifteen years after the erection of the church building a parsonage and a schoolhouse were built to match the brickwork of the church.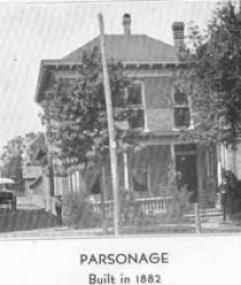 The parsonage faced Franklin Street and the school faced Ninth Street. These two building cost $7500 in 1882. At this time, the first church building, which had been serving as a school, was sold. When the Parochial School was discontinued later, the school became the parish hall.
From the time when the church was organized until June, 1919, the German language was used exclusively in the church services. The first English service was held on the 29th of June, 1919, given by Rev. Paul Irion. He was the longest serving minister fro 1907 to 1940. It was during this period of service that the church merged with the Evangelical Synod in 1925 and the Reformed Synod in 1934.
For the One Hundredth Anniversary in 1956, the congregation voted to purchase a 9 ½ acre site on the growing South edge of the city, on Franklin Street for $18,000. This became know as South Acres.
The following year in June, 1957, the United Church of Christ was duly constituted by the representatives of the Congregational Christian Churches and of the Evangelical and Reformed Church, in a United General Synod held in Cleveland, Ohio.
In 1958, Rev. Paul H. Frankenfeld was called to the pastorate of St. John's, and in 1962, the congregation voted favorably to relocate on the South Franklin Street property. Groundbreaking ceremonies were in December of 1966 and the Dedication Ceremony took place on May 19, 1968.
This is only a brief history of our church that started with 21 families. These people struggled to make a new home in Michigan City to our present membership of many diverse backgrounds, living in luxury undreamed of in 1856. In the beginning till now we are still all working together to carry on God's work, here at St. John's and through the United Church of Christ around the World.
For more in-depth information about our history, please visit our church library